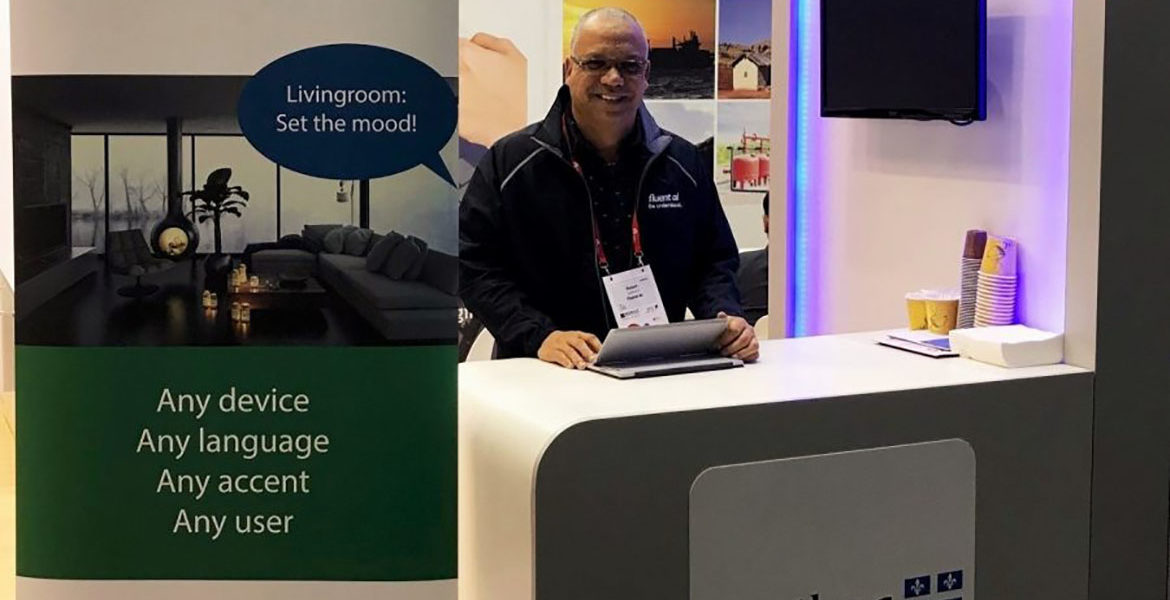 Last week's Mobile World Congress in Barcelona brought together the biggest names in mobile and IoT devices for a show-and-tell of what's to come for the industry in 2018.
While mobile phones were still a staple, this year's MWC showcased a range of connected devices; everything from laptops and tablets to connected refrigerators, lights and even shower heads and mirrors. For all connected devices, voice was a recurring theme in the goal to make devices more intuitive and deliver a unique user experience.
Fluent.ai participated in MWC to showcase FluentAI Core, its proprietary speech recognition technology that aims to universalize voice user interfaces. We met people from countries across the world looking for voice-enablement and frustrated that the major players don't support their language or "non-standard" accent in English. FluentAI Core seeks to solve this problem, offering an alternative to Alexa and Google that allows everyone to be understood by their devices.
Inspired by the way that humans learn language, Fluent's technology uses deep neural networks and machine learning techniques to go directly from speech to intent – without the need to transcribe from speech to text. The result is a voice interface that delivers high accuracy recognition in any language or mix of languages, any accent, and even in noisy environments. Fluent.ai's technology also saves cloud overhead and protects user privacy by working completely offline, even on small devices.
Fluent.ai's WakeWord solution offers single, multiple and user-trainable wake phrases with the same high accuracy and built-in noise robustness as its Core product. The FluentAI Hybrid offering combines offline voice recognition on-device with the ability to search the internet using voice. All solutions can be easily accessed through Fluent.ai's cloud-based platform Fluency-as-a-Service (or FaaS). FaaS allows development teams, OEMS, system integrators, app developers and ultimately end users to quickly integrate a reliable and robust voice interface in any language or accent into their products or services.
The Fluent Team confirmed the market's eagerness for reliable, multilingual voice-enabled interfaces through nearly fifty meetings with OEMs and ODMs in several industries, such as consumer electronics, smart homes, automotive, healthcare, and telecom.
For device OEMs and users around the world, Fluent.ai's mission is to bring high accuracy speech recognition in any language, any accent and any environment – because everyone deserves to be understood.